Plastering is the process of covering rough walls and uneven surfaces in the construction of houses and other structures with a material called plaster to give a smooth surface to accept paint finishes. Plaster is a mixture of lime or gypsum and sand along with the required quantity of water which is applied either with a trowel or a feather edge and worked to a smooth level finish.
There are 2 main types of plaster:
Gypsum Based plaster: Gypsum based plaster is generally the standard on most modern houses as it is easily sourced and a very safe material to work with. Gypsum plaster can be used pretty much anywhere as long as breathability is not an issue.
Lime Based Plaster: Lime based plaster is traditional on older houses and used to be the standard many years ago. Lime plaster is very breathable and works well with older construction methods which generally incur higher moisture uptake than today's construction methods. Lime based plaster can be dangerous to work with due to the corrosiveness of the lime which is one of the reasons it is not used much in today's construction. The other issue is that the breathability has to be taken into account when choosing final finishes meaning breathable paints and adhesives must be used.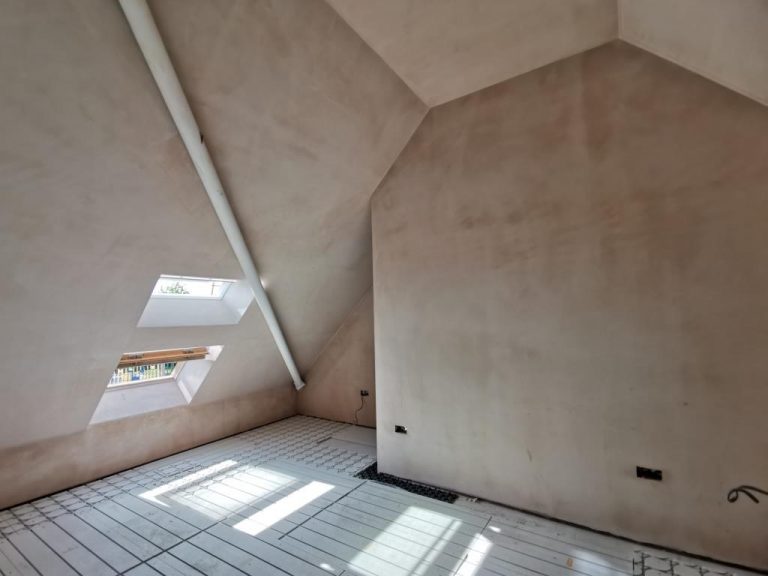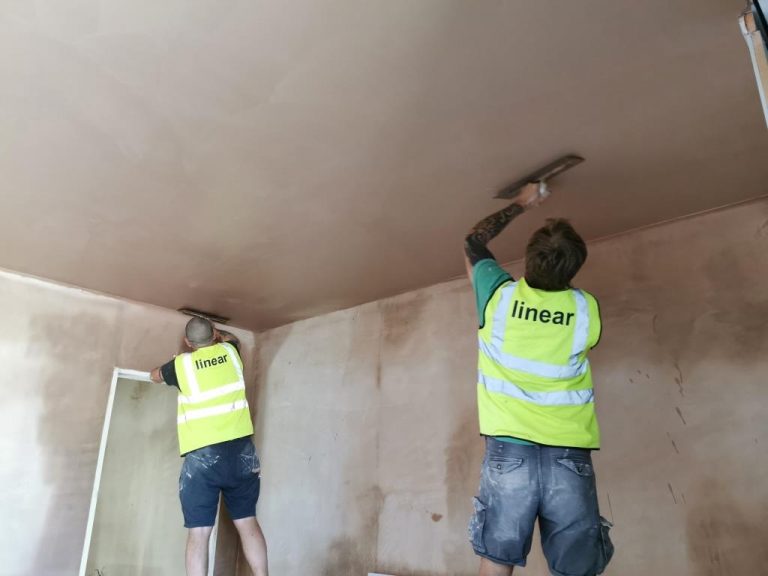 At Linear Plastering we undertake all types of plastering and specialise in all traditional and modern plastering methods.
The types of plastering we undertake are:
Skim Coat Plastering
2 Coat Wet Plastering (also called float and set plastering)
Traditional Lath and Plaster
Lime Conservation Plastering
Roughcast Plastering (becoming increasingly popular)
Polished plaster
From a sensitive listed property renovation to a large scale housing project Linear Plastering have the competence and passion to deliver excellent, uncompromising results every time, no matter the size of project.
Dry lining (sometimes referred to as drywalling) is a system for cladding the internal walls and ceilings in a building. Plasterboard is attached to the internal faces, either via plasterboard adhesive on Masonry walls or mechanical fixings on timber or metal studwork. This creates  a smooth, level surface ready for finishing. Once the boards have been installed they can then be finished with either Multi Finish skim plaster or jointing compound. 
Dry lining is faster to apply than traditional two coat plaster on masonry walls meaning that it offers good cost savings.
Plasterboard is available in a wide range of lengths, widths,  thicknesses and for different purposes. Plasterboard has a core of gypsum plaster which provides good acoustic and fire insulation. Moisture resistant plasterboards are treated with wax and can be useful when dry lining bathrooms for example.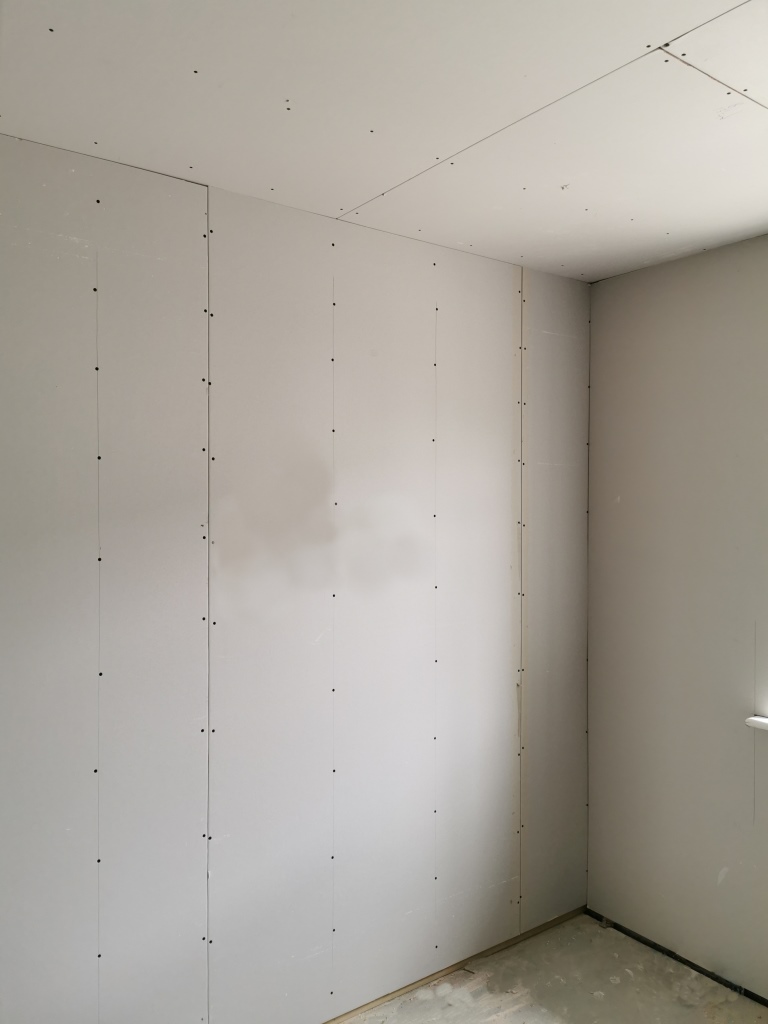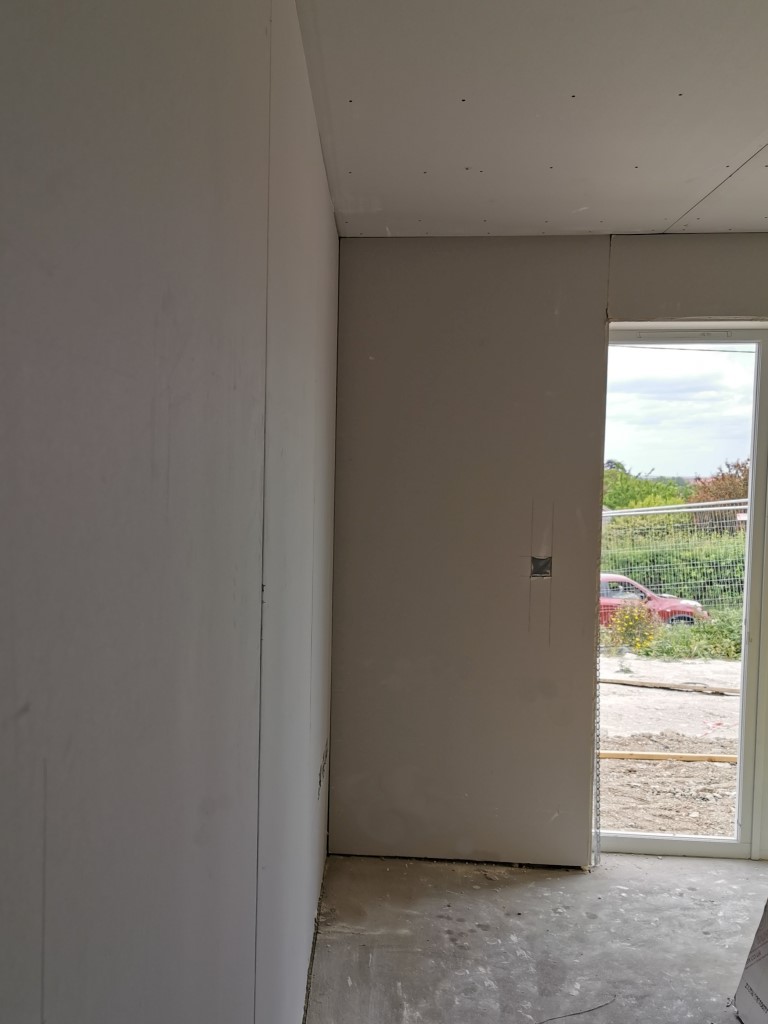 At Linear Plastering we undertake all types of dry lining and internal cladding, although we specialise in plasterboard dry lining and skim.
Linear can construct solutions and offer assistance with:
Fire protection 
sound mitigation 
Moisture Control
Airightness
Tile substrate boards
We are well versed in the current legislation and regulations in regards to internal wall linings and can offer advice and install solutions to satisfy any requirement or situation on both domestic and commercial projects.
Some examples of our Plastering & Drylining