A floor screed is usually a cementitious material made from a 1:4 or 1:5 ratio of cement to sharp sand. It may be applied onto either a suspended beam and block flooring system or solid in-situ concrete ground floor slab.
Floor screeds may be directly bonded to the base, or laid unbonded onto a suitable damp proof membrane which is placed over the slab. Alternatively the screed may be applied as a floating finish over a layer of rigid insulation material. This application is suitable for use with cast-in water pipes to provide underfloor heating.
If reinforcement is required, this can either be in the form of a fine metal mesh, fibres which are normally polypropylene or a fine glass mesh.
The screed may be left as finished, or floated to produce a smooth surface on which to lay the specified flooring or finish.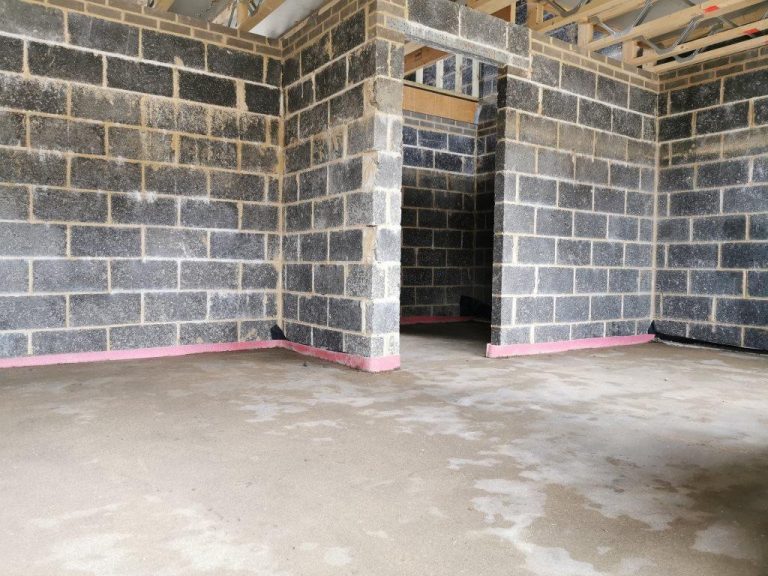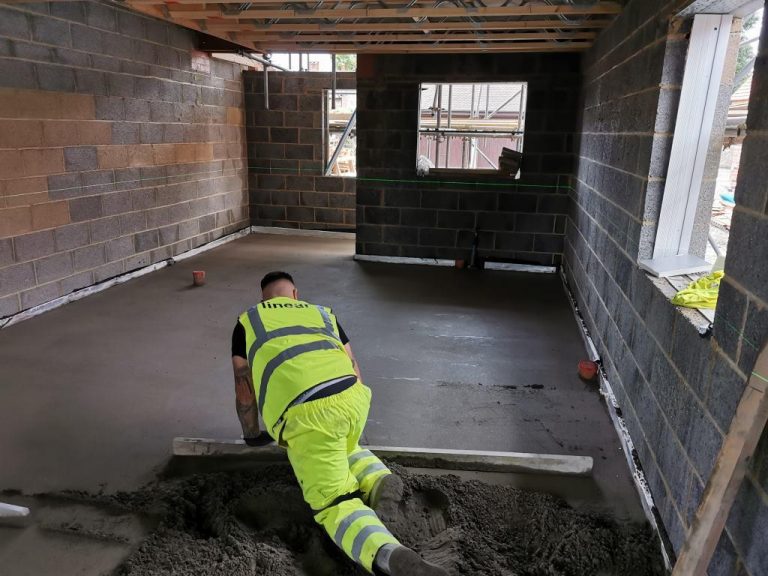 At Linear Plastering we undertake 3 main types of floor screed:
Dry Mix Sand & Cement Screed: Dry mixed, fibre reinforced sand and cement screed is generally premixed by a concrete plant. The Cement is stockpiled on site and transported to the working area by wheelbarrow or screed pump and piled up in straight lines called bays. Our screeders then use a 6 ft rule  and trowel to pull and tamp the screed to a level finish ready for decorative treatments.
Anhydrite Self Levelling Liquid Screed: Screeders set up levels across the floor area to the required depth then the screed is pumped in until it covers the full floor area to the depth set on the screed levels.
The floor screeders then dapple the screed to remove any bubbles or voids. The levels are removed and the screed is left to cure over the required period (generally 3 days before it can be walked on). If any laitance forms after drying the screed can be sanded smooth, ready to accept decorative floor finishes
Traditional Lime screeds: Very similar in makeup to sand & cement screed but uses lime as a binder. Traditional lime screeds are often used in old churches and pre industrial revolution era buildings where breathability is required to deal with the moisture these types of building present. 
Generally the the floor is laid as a full system containing geotextile membranes for breathability sandwiching a prescribed depth foam glass rock insulation over which a Lime screed is laid (limecrete is also a term used to describe the system)
Other services: Linear Plastering can also undertake installation of damp proof membranes, movement joints and insulation (both acoustic and thermal)
Some examples of our Floor Screeding work